Slakthusområdet
Stockholm
Slakthusområdet
In one of Stockholm's most exciting areas, Castellum is involved in creating Stockholm's most vibrant urban district. The Meat Packing District, or Slakthusområdet as it is called in Swedish, is located in Söderstaden and is part of the enlargement of Stockholm's city centre. Several planning processes are currently under way there, with the aim of developing a modern urban district where housing, commerce, services, culture and businesses coexist with one another. Castellum currently owns seven buildings in the area.
Stockholm's most vibrant urban district
Castellum is actively contributing to realising the vision for the area: to create Stockholm's most vibrant urban district. We're doing this by adding more attractive, modern workplaces to the area as it develops. We know how to create successful workplaces that meet today's needs for technical solutions, while also taking into account people's needs.
Modern urban district
Good communications
Healthy workplaces
About Slakthusområdet
Old and new
The area's dynamism stems from a meeting of old and new, with buildings of cultural and historic interest existing alongside new architecture. Historic aspects are also highlighted as many of the premises open to the public will be used for dining and drinking, events, etc.
Local metro station
In connection with the development of Slakthusområdet, a re-routing of the blue metro line is being planned as well as the construction of a new metro station in Slakthusområdet. The new station will be immediately adjacent to the central park and Castellum's buildings – exactly the place where your company wants to be.
Tomorrows workplaces
Successful workplaces
To help you, as our tenant, to meet your established targets, Castellum gives high priority to things that enable you to focus on your work. Light, airy, motivating spaces. The right digital conditions. And the possibility to work anywhere in the premises. These are things that Castellum focuses on when developing tomorrow's workplaces.
With a focus on people's health
Creating workplaces that contribute to people's health and wellness is important to us. Among other things, we work with WELL, an international building standard that focuses on health and wellness through seven concepts: air, water, nourishment, light, movement, climate and mental well-being.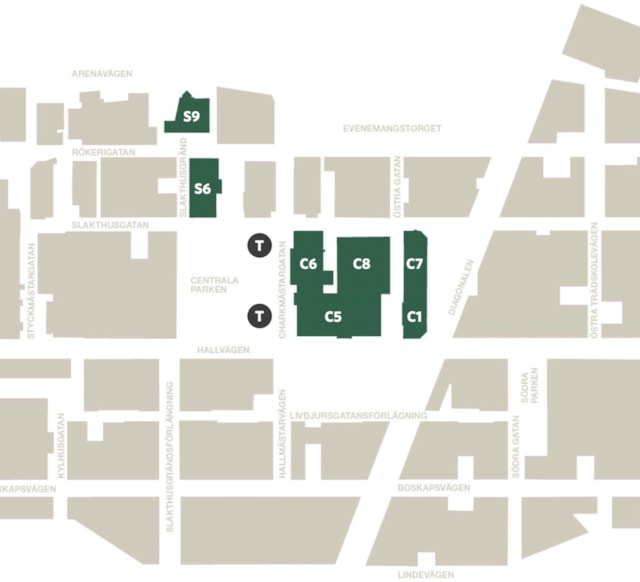 Castellum's properties in Slakthusområdet 2023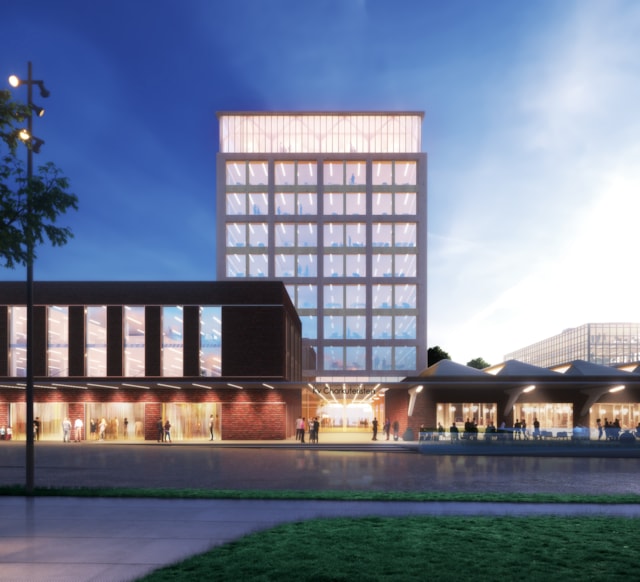 Proposed idea from Tengbom Architects
Why choose Castellum?
We've got the premises
With one of Scandinavia's largest stocks of office premises, we offer an extensive range of premises in different locations. We also offer fully equipped, turnkey offices in several cities, as well as fully serviced coworking spaces with 24/7 access and a large range of services.
We work sustainably
As the Nordic region's most sustainable property company, we make sure that all our new build projects are environmentally certified. In addition, we offer tenants everything from green leases to energy-efficient, climate-neutral properties, always with a safe, healthy working environment.
We look around the corner
To meet tomorrow's needs, we follow the latest research on working life, learn from new findings, carry out our own surveys and publish the annual trend report Worklife of the Future. However, our most important monitoring of future trends takes place through our daily dialogue with tenants.
We are local and close at hand
We show strong local commitment, and have own staff in all locations where we operate. This allows us to provide the personal contact and local knowledge we know is so important. We manage all of our buildings, and as a customer you always have access to a dedicated house team who make sure you're happy with us.