Career
Internships at Castellum
Are you a student, or are you curious about the property sector? With us you'll get experience of working at the largest property company in the Nordic region.
Start your journey with us
As an intern at Castellum, you'll gain insight into daily life with us and opportunities to make contacts for the future. We offer several internships, both during academic semesters and in the summer. There are also good opportunities for summer jobs and extra jobs with us. Check out available internships under Job vacancies.
Jobbsprånget
Internship helped Reshma enter the industry
Castellum collaborates with Jobbsprånget, an internship programme that offers a fast track to working life in Sweden for newcomer academics.
Reshma Ramamurthy's internship at Castellum provided a way into the Swedish job market. Jobbsprånget and the internship opportunity helped Reshma integrate into Swedish society.
The purpose of Jobbsprånget
The purpose of Jobbsprånget is to make the most of the expertise of newly arrived immigrants and fast track their entry into the Swedish labour market. Reshma is from southern India. When her boyfriend found work in Sweden, she moved with him and enrolled in a Strategic Human Resource Management programme at the University of Gothenburg. After graduating, she landed an internship at Castellum's People & Culture department (HR).
'My internship at Castellum was hugely rewarding and gave me self-confidence and motivation. This played a decisive role in getting my current job.'
Reshma Ramamurthy
Intern at Castellum's People & Culture department
We create the right conditions for young people
Castellum wants to increase young peoples' opportunities to enter the labour market by taking on apprentices and interns. We want to create favourable conditions and give them good opportunities to enter the labour market after graduating. To create the best possible basis for this and ensure a meaningful and instructive internship period, we have developed a structured internship model. This has proved valuable both for us and our interns.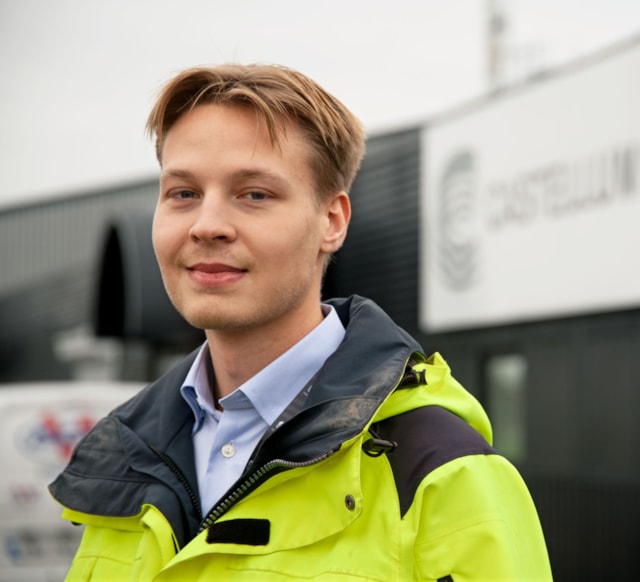 MAX ANDSKÄR, INTERN AT CASTELLUM
A taste of a dream job
Max Andskär is an intern doing an apprenticeship at Castellum Säve. His supervisor Anders Fredriksson, business area manager and airport manager at Castellum Säve, believes in the apprenticeship system and sees it as a win-win situation. By regarding apprentices as a resources and guiding them towards Castellum's profile, they can develop into future colleagues.
'I'm learning a huge amount, while I also feel I'm making a useful contribution to the organisation. My dream is to work in property development and environment certification, ideally at Castellum,' says Max.