About Castellum
Stakeholder dialogue and materiality analysis
The continual dialogue with our stakeholders is a key component of our sustainability initiative, and forms the basis of our materiality analysis.
Systematic development
To develop and improve our sustainability initiatives, Castellum continually and systematically analyses both positive and negative impacts of the operations on its business environment from the perspective of the economy, the environment, society, and human rights.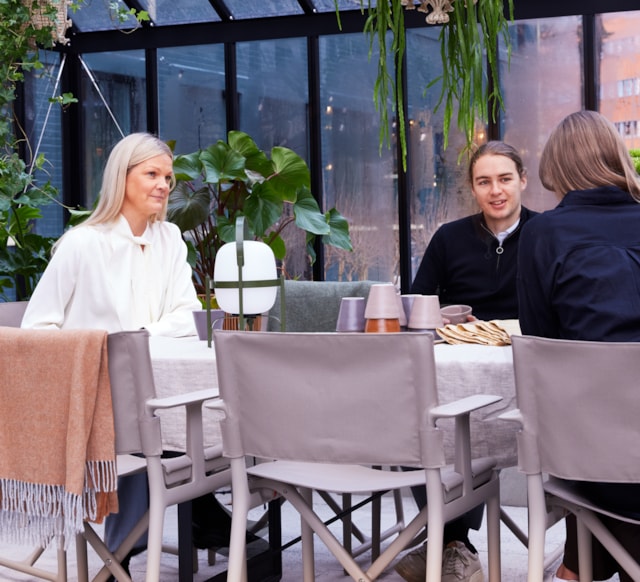 Castellum has an impact on, and is impacted by, various stakeholder groups. The stakeholders who have been identified as the most central to Castellum's operations are:
Tenants
Board of Directors
Suppliers
Employees
Routine stakeholder dialogues
To facilitate surveying and adapting key sustainability issues to requirements and expectations in its business environment, Castellum is routinely in dialogue with the company's stakeholders. Stakeholder involvement allows Castellum to better understand both which sustainability issues the stakeholder groups regard as material in relation to Castellum, and the significant impact that various sustainability issues have or could have on the business environment. Dialogue is held in various situations and through various channels, and issues are routinely addressed. In addition to the routine dialogue, interviews are held with selected experts in sustainability in the property industry who are considered as having a major impact on – or are impacted by – Castellum's operations.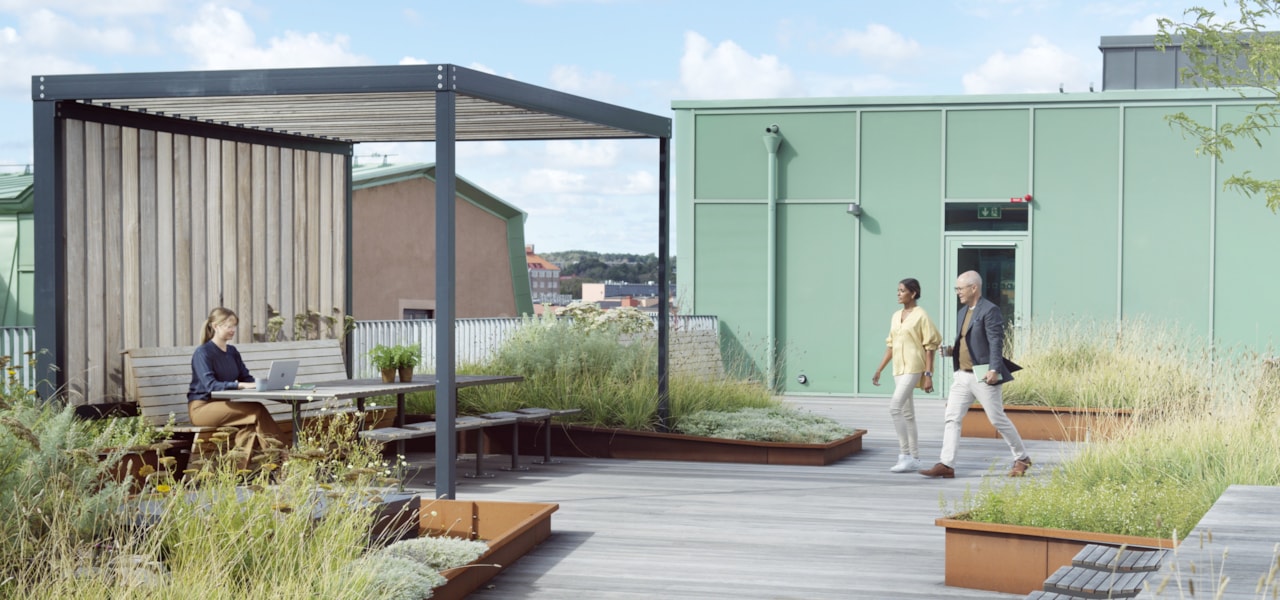 Materiality analyses

Castellum conducts materiality analyses to identify, prioritise and establish the company's material sustainability issues. The latest materiality analysis was conducted in 2021. A review confirmed that the material sustainability issues identified had remained relevant for 2022.
Assessments
The analysis is based on Castellum's various sustainability issues, stakeholder dialogues, business intelligence, and industry analyses, and is intended to assess what significant impact the different issues have on the business environment from the perspective of the economy, the environment, and social and human rights. The analysis also takes the impact of changes in the business environment on the company and its various sustainability issues into consideration, and also looks at how these in turn impact Castellum financially over both the short and long term.
Materiality matrix
The results of Castellum's materiality analysis are presented in a matrix. All sustainability issues in the matrix are considered important for the company, but they are evaluated from the perspective of low, medium or high relevance and impact, respectively. The colour-coding of the sustainability issues indicates which of Castellum's four overall sustainability areas the specific issues fall under. Vertical text: Relevance for stakeholders in relation to Castellum Horizontal text: Castellum's impact on its business environment from a perspective of the economy, the environment, society and human rights.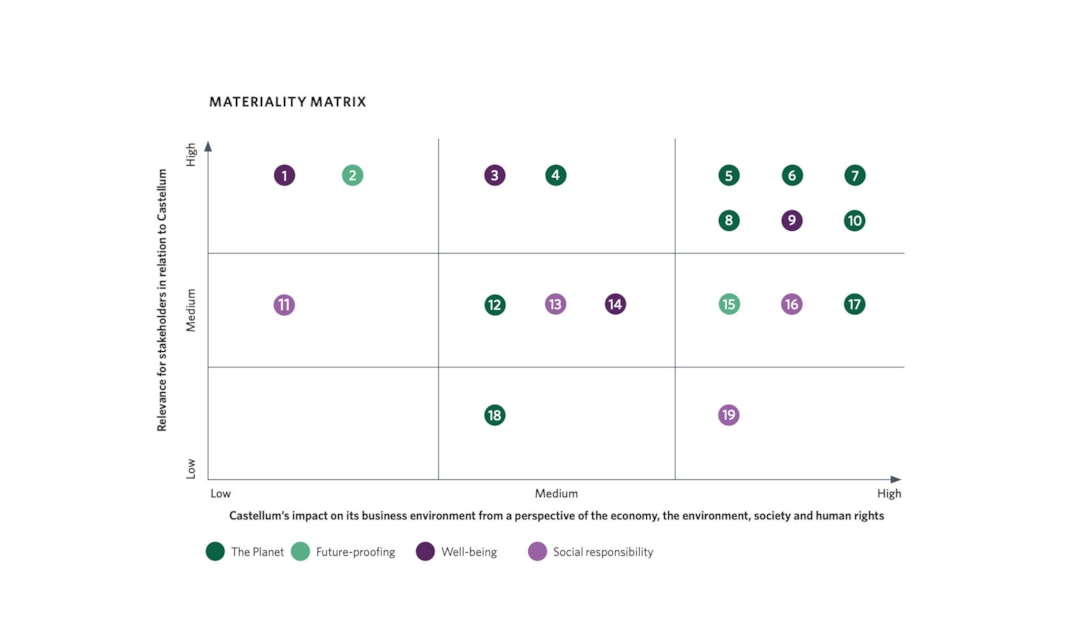 Castellum's material sustainability issues
Attractive workplace
Offer smart, flexible workplaces
Healthy premises
Environmental and climate risks
Renewable energy
Minimise climate impact
Efficient use of resources
More sustainable building materials and installations
Diversity and equal opportunity
Partner with customers for increased sustainability performance (e.g. through waste management and green mobility)
Sustainable financing
Adapt the properties for climate change
Develop local communities (e.g. through apprenticeships)
Occupational Health and Safety
Sustainability certification of buildings
Ensure sustainable supply chains
Increased circularity
Biodiversity and ecosystem services
Good business ethics and anti-corruption